TOP MEDICAL COLLEGES IN UTTAR PRADESH
There are 22 Government, 29 Private and 1 Deemed Medical colleges in Karnataka. All together there are 9345 seats. Out of which 2900 seats are there in Government, 4395 seats in Private and 2050 seats are there in Deemed. There are 2 AIIMS, 1 BHU & 1 AMU in UP. AIIMS comes under statutory autonomous controlled by the Central Government, BHU & AMU comes under Central Institution. 
Among Government King George Medical University was the first one to start in the year 1911 and Government Medical College, Basti is the most recent one to start in 2019.
Among Private Subharti Medical College, Meerut was the first one to start in the year 1996. Noida International Institute Of Medical Sciences, Greater Noida and United Institute of Medical Sciences, Prayagraj are the newly opened college in the year 2020.
Among Deemed Santosh Medical College, Ghaziabad is the only one running since 1996.
Highlights of Uttar Pradesh
State

Uttar Pradesh

Website

www.updgme.in

Counseling Body

Director General Medical Education

Coursed offered

M.B.B.S & B.D.S

Result Accepted

NEET

Eligibility

NEET Qualified

College Participation

Government & Private

Seat Participation

85% Government & 100% Private

Rounds of Counseling

Round 1, Round 2 & Mop UP

Type of Seat

Government, Private

Seat

Government – 3078

Private – 4150

Deemed – 100

Categories

General, SC, ST, OBC, MM & JM




No. of Colleges

Government – 22

Private – 31

Deemed – 1 (To be filled through MCC)

Recognised College

Government – 13

Private – 19

Permitted College

Government – 9

Private – 12

Cut off – Government 

16646

Cut off – Private Open

555912

Cut off – Private – Muslim Minority

805034

Cut off – Private – Jain Minority

375645
BASIS OF MEDICAL COLLEGES RANKING
Team at Get My University does extensive study considering various parameters like
TOP PRIVATE MEDICAL COLLEGES IN UTTAR PRADESH
| | | | |
| --- | --- | --- | --- |
| RANKING | NAME OF COLLEGE | CITY | ESTABLISHMENT YEAR |
| 1 | Era Medical College | Lucknow | 1996 |
| 2 | Shri Ram Murti Smarak Institutions | Bareilly | 2005 |
| 3 | Teerthanker Mahaveer Medical College | Mooradabad | 2008 |
| 4 | Rohilkhand Medical College & Hospital | Bareilly | 2006 |
| 5 | School of Medical Sciences & Research (SHARDA) | Greater Noida | 2009 |
| 6 | Muzaffarnagar Medical College | Muzaffarnagar | 2006 |
| 7 | Hind Institute of Medical Sciences | Barabanki | 2009 |
| 8 | Subharti Medical College | Meerut | 1996 |
| 9 | Saraswati Institute of Medical Sciences | Hapur | 2008 |
| 10 | Rama Medical College Hospital and Research Centre | Hapur | 2011 |
Showing parameters for
ERA Medical College, Lucknow
Ranked 1 among private medical college in Uttar Pradesh: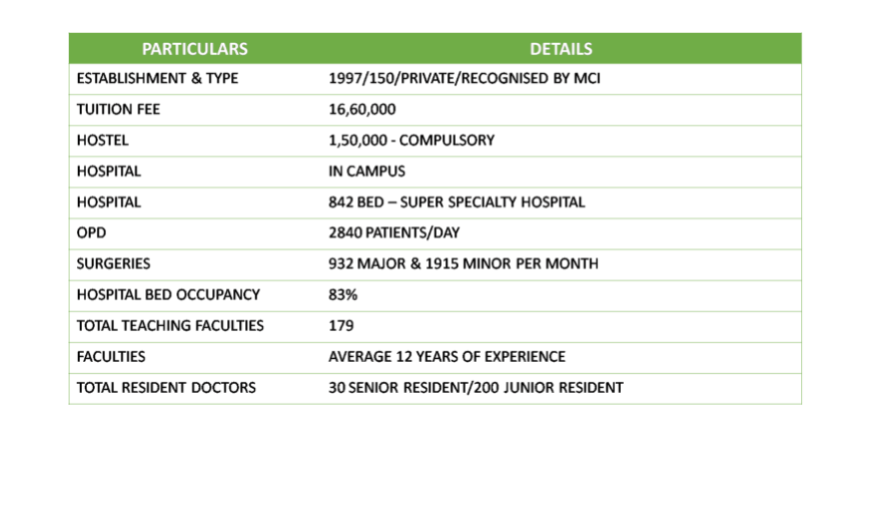 TOP GOVERNMENT MEDICAL COLLEGE IN UTTAR PRADESH
| | | | |
| --- | --- | --- | --- |
| RANKING | NAME OF COLLEGE | CITY | ESTABLISHMENT YEAR |
| 1 | King George's Medical University | Lucknow | 1911 |
| 2 | Dr. Ram Manohar Lohia Institute of Medical Sciences | Lucknow | 2017 |
| 3 | Ganesh Shankar Vidyarthi Memorial Medical College | Kanpur | 1955 |
| 4 | Motilal Nehru Medical Collage | Allahabad | 1961 |
| 5 | Sarojini Naidu Medical College | Agra | 1939 |
| 6 | Lala Lajpat Rai Memorial Medical College | Meerut | 1966 |
| 7 | B.R.D. MEDICAL COLLEGE, GORAKHPUR | Gorakhpur | 1972 |
| 8 | Maharani Laxmibai Medical Collage | Jhansi | 1968 |
| 9 | Uttar Pradesh University of Medical Sciences | Etawah | 2006 |
| 10 | Government Institute of Medcial Sciences Kasna | Greater Noida | 2019 |