MBBS FEE STRUCTURE CHHATTISGARH
If you are an medical aspirant, then you might be interested to know about the MBBS fee structure of Chhattisgarh medical colleges.  Admission in Medical Colleges of Chhattisgarh is done on the basis of NEET UG Examination result. Student has to score minimum qualifying marks in order to become eligible for the counseling.
There are 5 Government & 2 Private Medical College in Chhattisgarh. Fee offered in its Private Medical College is 3rd lowest in India after Kerala & Punjab. Fee offered in Private Medical Colleges are same for both Domicile and Non-domicile students.
Fee structure was fixed on the basis of type of college.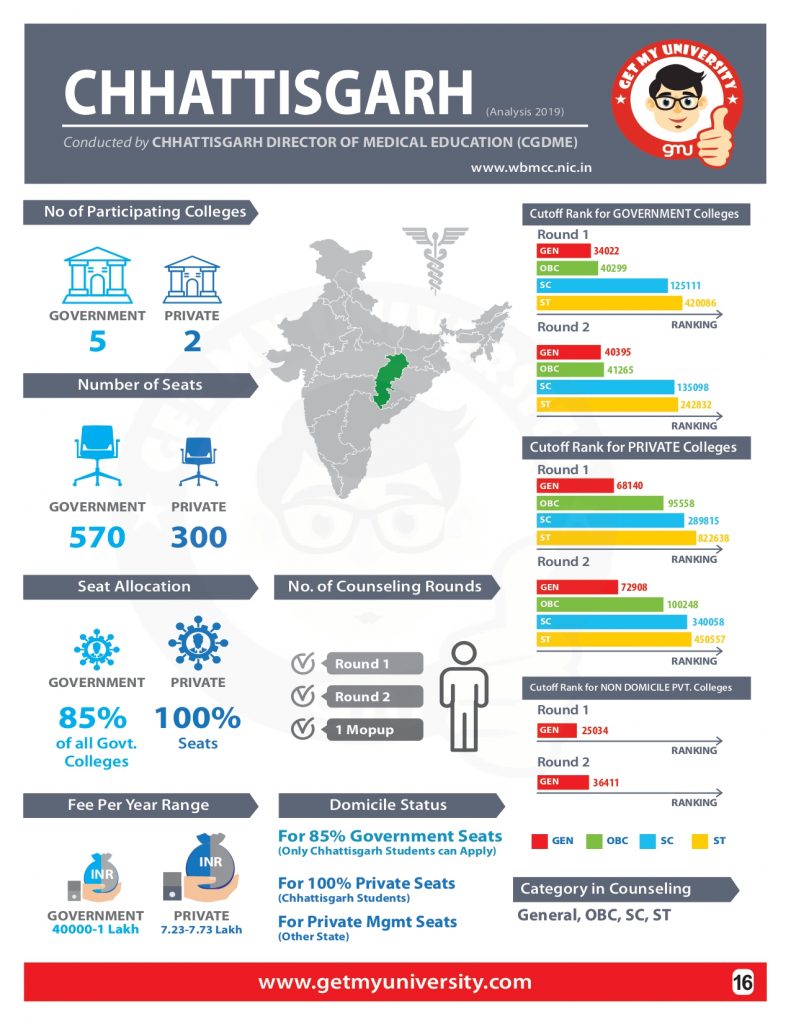 MBBS FEE STRUCTURE IN MEDICAL COLLEGE IN CHHATTISGARH
| s | CITY | TYPE | FEE |
| --- | --- | --- | --- |
| Chhattisgarh Institute of Medical Sciences | Bilaspur | Government | 40000 |
| Late Shri Baliram Kashyap Memorial Medical College | Jagdalpur | Government | 50000 |
| Bharat Ratna Late Shree Atal Bihari Vajpayee Memorial Medical College | Rajnandgaon | Government | 100000 |
| Pt. Jawahar Lal Nehru Memorial Medical College | Raipur | Government | 40000 |
| Late Shri Lakhi Ram Agrawal Memorial Government Medical College | Raigarh | Government | 50000 |
| Raipur Institute of Medical Sciences | Raipur | Private | 723156 |
| Bhilai Shri Shankaracharya Institute of Medical Science(Private) | Bhilai | Private | 773156 |
Chhattisgarh NEET UG Counseling Highlights
| Particulars | 2019 |
| --- | --- |
| Name of the Organization | CGDME NEET UG |
| Exam Name | NEET (National Eligibility & Entrance Test) |
| Official Website | https://cgdme.in/index.php |
| No. of counseling rounds | 2 Rounds + 1 Mopup |
| No of Participating Colleges | Government : 5 |
| | Private: 2 |
| Domicile Status | State Domicile can apply in Govt. & Pvt. |
| | Non domicile can apply only in Pvt. Under mgt. quota |
| Cutoff for Government Colleges | Round 1: GN - 34022, OBC - 40299, SC – 125111, ST -420086 |
| | Round 2: GN - 40395, OBC - 41265, SC – 135098, ST - 242832 |
| Cutoff for Private Colleges | Round 1: GN - 68410 , OBC – 95558 ,SC -289815 ST - 822638 Round 2: GN - 72908, OBC – 100248, SC- 340058, ST - 450557 |
| Cut off Pvt. Non domicile | Round 1: GN - 25034 |
| | Round 2: GN - 36411 |
| Categories | GN/OBC/SC/ST |
| Number of Seats | Government : 570 |
| | Private : 300 |
| Average Fee Year Range | Government: 40000 – 100000 |
| | Private: 723156 - 773156 |
Get My University Observation
Chhattisgarh has seen moderate competition level for its Private Medical seat among mid-range rank holder 30000 – 72000
Chhattisgarh offer 3rd lowest Fee structure among Private Medical Colleges across India
Overall budget including other expenses like Hostel, Mess, Miscellaneous comes around 9 Lacs in Private Medical College in Chhattisgarh